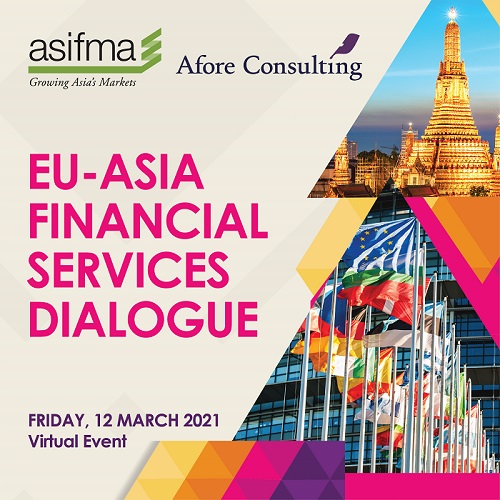 EU-Asia Financial Services Dialogue
Afore Consulting and ASIFMA are proud to co-host the 7th EU-Asia Financial Services Dialogue, taking place on 12 March 2021 for half a day (8 AM-12.35 PM CET). This year this Dialogue will take the form of a virtual event.
The Dialogue takes place annually around the EU-Asia-Pacific Forum on Financial Regulation organised by the European Commission and the APAC Regional Committee of IOSCO. It is an occasion to discuss the opportunities and challenges in the financial services sector around regulatory cooperation between the Europe and Asia. We look forward to welcoming you to this important regulatory and policy event bringing together European and Asian policy makers and industry representatives.
For this year's event, we are delighted to have with us the following speakers:
H.E. Arkhom Termpittayapaisith, Minister of Finance, Thailand
Ashley Alder, Chair, IOSCO Board
Jean-Paul Servais, Vice-Chair, International Organisation of Securities Commissions, Chair of the Belgian Financial Markets Authority
Sean Berrigan, Director General, DG FISMA, European Commission
Steven Maijoor, European Securities and Markets Authority Chair
Tokio Morita, Vice Minister for International Affairs, JFSA and Chair, IOSCO Asia Pacific Regional Committee
Shen Bing, Director-General of the Department of International Affairs, China Securities Regulatory Commission (CSRC)
Ho Hern Shin, Assistant Managing Director (Banking & Insurance), Monetary Authority of Singapore
Mukhtar Hussein, Group General Manager, Head of Belt & Road Initiative and Business Corridors, Asia-Pacific, HSBC
Join us for keynote speeches and panel discussions on:
COVID-19 recovery
Sustainable finance
Regulatory alignment and deference
Financial Technology
We look forward to welcoming you online on 12 March 2021.
7th EU-Asia Financial Services Dialogue programme
Please feel free to contact Jean Plattard, Senior Consultant at Afore Consulting on Jean.Plattard@aforeconsulting.eu or Millie Hung, Head of Events at ASIFMA on mhung@asifma.org if you have any questions regarding this event.
Speakers
05. Jean-Paul Servais

Chair of IOSCO and Chair of FSMA

Since October 2022, Jean-Paul Servais is the chairman of the board of the International Organization of Securities Commissions (IOSCO). IOSCO is the membership organization composed of the world's financial securities and markets regulators involved in the supervision of 95 % of the financial sector at international level. He is also the Chairman of the IOSCO European Regional Committee and he served three successive terms as Vice-Chair of the IOSCO board between 2016 and 2022 until he was elected as IOSCO board chair. Within IOSCO, Jean-Paul also leads the SPAC network.

Besides his international responsibilities, Mr Servais is the Chairman of the Belgian Financial Services and Markets Authority (FSMA). In this capacity he is a board member of several international supervisory bodies for the financial sector such as IOSCO, European Securities and Markets Authority (ESMA), and European Systemic Risk Board (ESRB). Besides, he sits on a number of supervisory colleges that coordinate the (cross-border) supervision of financial institutions and infrastructures.

Through these experiences Jean-Paul has accrued a unique blend of supervisory expertise and regulatory acumen as it relates to international financial services. Jean-Paul is known for his commitment towards investor protection. To this end, he has successfully led initiatives to promote the importance of financial education. Beyond his thorough understanding on the functioning of traditional financial services and markets, Jean-Paul is an engaged and influential figure on sustainable finance and digital regulatory agendas.

Jean-Paul teaches at the Université Libre de Bruxelles (ULB, University of Brussels), where he is part-time professor in International Business Law and in the specialised Master in Tax Law. He is author or co-author of more than 400 contributions, mostly engaging on European and international systems of financial supervision and regulation issues.

Almoro Rubin de Cervin

Head of Unit, International Affairs, DG FISMA

Almoro Rubin de Cervin is Head of Unit responsible for international affairs in at DG FISMA. In recent years, he has worked extensively on developing regulatory dialogues with key Asian jurisdictions, as well as with the United States. In previous postings in the European Commission, he has worked in the Directorate General for Competition and before on industrial policies, entrepreneurship and SME access to finance. Before joining the European Commission, he has also worked as a government official in Italy in the Industry and Foreign Affairs Ministry and at the OECD in Paris. He also has experience as a journalist and politician in Italy. Almoro Rubin de Cervin graduated in economics from the Bocconi University in Milan.

Andrew Douglas

Managing Director, Government Relations for EMEA and Asia

Andrew Douglas is Managing Director of Government Relations for EMEA and Asia at The Depository Trust & Clearing Corporation (DTCC).

Andrew plays a key role in representing DTCC's public policy positions to officials of the European Union and its Member States as well as multiple jurisdictions in Asia. He represents DTCC in dealings with other European organizations, such as regulators, central banks and industry trade associations. Andrew is also responsible for communicating DTCC's European policy agenda and for building upon existing relationships with individuals and groups in the public policy-making process. In addition, he represents DTCC at relevant forums, advises senior management on pending legislation and policy issues and provides input to DTCC business line managers about European issues relevant to their products.

During his career at DTCC, Andrew was Chief Executive Officer of DTCC's European Trade Repository (DDRL) from 2015-2019 and was a founding board member of GlobalCollateral – a collateral joint venture between DTCC and Euroclear.

Andrew joined DTCC from the Society for Worldwide Interbank Financial Telecommunication (SWIFT), where he headed the Belgium-based cooperative's Securities Research and Development team. During his tenure at SWIFT, he was instrumental in developing the "Giovannini protocol," which harmonized communication standards among equity post-trade infrastructures in Europe.

Prior to joining SWIFT in 1999, Andrew spent two years as head of the middle-office and client service teams for fixed income and money market products at Deutsche Bank's investment bank. He began his financial services career in 1988 at Citibank, where he worked in clearing and custody.

Andrew is also Chairman of the European-Asia Financial Services Roundtable based in Brussels.

Andrew has an MBA from Manchester Business School and a Bachelor of Science degree in Materials Science and Engineering from the University of Surrey.

Arkhom Termpittayapaisith

Minister of Finance, Thailand

Arkhom Termpittayapaisith, has joined NESDB since 1979 which is considered to be the key agency on planning and formulation of development strategies in Thailand. Throughout his years in NESDB, Arkhom has held series of directorship and taken a lead role in many infrastructure development projects
and formulation of vital development strategies which proven to be crucial for the nation to achieve the sustainable development goals. As top executive of NESDB, Arkhom has long been following the philosophy of sufficiency economy by heart and using it as a foundation in development strategy in light of shaping the nation toward more balanced development.

Arkhom also played vital roles as board of directors in many nation's lead state-own-enterprises until August 2014 prior to the appointment as Deputy Minister of Transport. These included PTT Public Company Limited, Airports of Thailand Public Company Limited, and Thai Smile Airways Company Limited.
His roles also extend toward the international community through his extensive involvement in neighboring countries development cooperation especially in cross-border infrastructure projects to connect all the Greater Mekong Subregional Economic Cooperation (GMS) countries which later lead to the Master Plan on ASEAN Connectivity. In his capacity of being Minister of Transport, he was able to change the future of transport infrastructure by completing almost all projects especially the mass transit system in Bangkok, the inter-city double track railways, the high speed rail, all airports, roads and highways, seaports, as well as the gave more focus on the issues of road safety. The most outstanding task was to lift the red flag in 2017 that was imposed by the ICAO in 2015.

Personal Information:
Born on 25 September 1956. 1978 received Bachelor degree in Economics from Thammasat University, Thailand; 1983 Master degree in Development Economics from Williams College, United States; 1979 joined NESDB as Industrial Planner; 2000 Senior Adviser in Policy and Plan, NESDB; 2004 Deputy Secretary-General, NESDB; 2010 Secretary General, NESDB.
In July 2014, Arkhom was appointed as a member of the National Legislative Assembly (NLA). Later he resigned from NLA and was appointed as Deputy Minister of Transport from 30 August 2014 – 19 August 2015 and became Minister of Transport since 19 August 2015 – 16 July 2019.

Arnaud Senechal

Executive Director, Head of Regulatory Affairs, APAC, J.P. Morgan

Arnaud Senechal is Head of Regulatory Affairs for the Asia Pacific region at J.P. Morgan, based in Hong Kong. In his role, he is responsible for overseeing J.P. Morgan's engagement in material regulatory policy developments in the region, including coverage across key markets and prudential issues. Arnaud's primary focus is on markets issues including cross-border regulations, clearing and e-trading platforms, among others.

During his 18 year tenure at J.P. Morgan, Arnaud has held a variety of roles in Paris, London and Hong Kong in Private Banking, Asset Management, Cash Services, Project Management, Client Servicing and OTC Operations.

Arnaud is a graduate of Rouen Business School in France.

Ashley Ian Alder

Chair, IOSCO Board

Ashley Alder is the Chief Executive Officer of the Hong Kong Securities and Futures Commission. Mr. Alder came to Hong Kong in 1989 with the international law firm Herbert Smith, practicing corporate and business law. He was Executive Director of Corporate Finance at the SFC from 2001 to 2004, before returning to Herbert Smith, later as head of the firm's Asia Region. He rejoined the SFC in 2011.

Mr. Alder attained his Bachelor of Laws degree from the University of London in 1982 and graduated from the University of Cambridge with a Master of Laws degree in 1983.

Hannah Cassidy

Partner, Co-Chair of Global Banks Sector Group, Herbert Smith Freehills

Hannah is a contentious regulatory partner who also advises financial services clients on regulatory policy and compliance. She heads the award-winning Financial Services Regulatory practice in Hong Kong.

Hannah helps international and regional financial institutions with contentious regulatory cases and cross-border investigations involving, for example, systems and controls breaches, anti-money laundering failures and insider dealing. Hannah also regularly advises clients on regulatory developments, including in relation to licensing, senior management accountability and fintech. She is leading the firm's thought leadership efforts in the Asia-Pacific region on benchmark reforms, including the litigation and regulatory risks arising from IBOR discontinuation.

Ho Hern Shin

Assistant Managing Director (Banking & Insurance), Monetary Authority of Singapore

Ms. Ho Hern Shin is the Assistant Managing Director of the Banking & Insurance Group, overseeing the licensing and supervision of all banks, merchant banks, insurance and finance companies in Singapore.

Ms. Ho Hern Shin is the Assistant Managing Director of the Banking & Insurance Group, overseeing the licensing and supervision of all banks, merchant banks, insurance and finance companies in Singapore.

Ms Ho holds a BSc degree in Monetary Economics from the London School of Economics in the UK.

Mark Austen

CEO, ASIFMA

Mark Austen is the Chief Executive Officer of the Asia Securities Industry & Financial Markets Association (ASIFMA). Since joining ASIFMA in 2012, he has led the expansion of the association to encompass Equities, Compliance, Post-Trade and Asset Management in addition to its original division for Fixed Income, and its membership has grown to over 140 firms.

Mark was also the CEO of the Global Financial Markets Association (GFMA) from 2016 to 2018, which represents the common interests of the world's leading financial and capital market participants, and speaks for the industry on the most important global market issues. GFMA brings together three of the world's leading financial trade associations to address the increasingly important global regulatory agenda and to promote coordinated advocacy efforts. GFMA comprises ASIFMA based in Hong Kong, The Association for Financial Markets in Europe (AFME) in London and Brussels and the
Securities Industry and Financial Markets Association (SIFMA) in New York and Washington.

Mark's key objectives at ASIFMA are to expand its product divisions, continue to build a broad membership base and further strengthen its ability to act as a collective voice for the industry.

Mark was formerly with AFME as Chief Operating Officer. Previously, he was AFME's head of the Capital Markets Division and served as its Acting Chief Executive from December 2009 to September 2010. Mark helped facilitate the successful merger of the London Investment Bankers Association and SIFMA Europe to create AFME in November 2009 and steered the newly formed association through its first year of operation. Mark joined AFME (then called The Bond Market Association or TBMA) in 2005 to head up the European Primary Dealers Association (EPDA), which addressed issues of specific interest to government bond markets. He was instrumental in the formation of the Global Rates Division, the Credit Division, and the Covered Bond Division, and also managed the negotiation and integration of the European Securities Forum (ESF), which became the Post Trade Division, into what was then known as SIFMA Europe. More recently, Mark was the driving force behind the establishment of the Global FX Division and the creation of the AFME Equities Board. In addition to his other duties at AFME, he headed up the Advocacy Division and held overall responsibility for AFME's financial matters and membership.

Prior to joining AFME, Mark worked for MTS Group, the European trading platform for fixed income securities, where he was head of Legal and Compliance. Before his work at MTS, Mark spent three years as head of an international environmental web portal.

Mark has stepped down from his positions on the board of the International Council of Securities Associations (ICSA), the European Capital Markets Institute (ECMI) at the Centre of European Policy Studies (CEPS), and the Advisory Board of Quorum 15 in order to concentrate fully on his work at ASIFMA. He was a member of the Ontario Bar and holds an LL.M. from the London School of Economics and an LL.B. from Osgoode Law School in Toronto.

Mukhtar Hussain

Group General Manager, Head of Belt & Road Initiative and Business Corridors, Asia-Pacific, HSBC

Mukhtar Hussain is a Group General Manager of HSBC based in Hong Kong. He is responsible for two of HSBC's most important strategic growth initiatives namely the Belt and Road initiative and Business Corridors in Asia. In this role, he is responsible for driving dialogue with key clients and counterparts for HSBC Group. He reports directly to Peter Wong, Deputy Chairman and CEO of HSBC in Asia.

Mukhtar has spent his entire career at HSBC (37 years) joining the Bank in London in 1982 as a graduate trainee. He spent 11 years in the City of London before being invited to establish the wholesale banking platform for HSBC in the Middle East in 1993. He was extensively involved across the Middle East and responsible for helping HSBC establish Saudi Arabia's first investment banking platform. He served as Deputy Chairman of HSBC Middle East.

In 2006, he returned to London to Co-Head Global Banking and was then asked to restructure the Private Equity business of HSBC into the current Principal Investments unit. In 2009, Mukhtar was appointed Chief Executive Officer of HSBC Malaysia with responsibilities for one of the largest franchises in South East Asia. Mukhtar served in Malaysia for 8 years until April 2018 before moving to Hong Kong to undertake his current role.

Mukhtar has served as a member of the Executive Committee of HSBC Asia Pacific since 2010. In October 2018, he was invited to join the Board of HSBC Singapore as Chairman and remains a Director of HSBC Malaysia. He graduated in Economics from the University of Wales in 1982 and is a Chartered Banker.

Nickolas Reinhardt

Co-founder and Director, Afore Consulting

Nickolas co-founded Afore Consulting in 2007. His career of over 25 years has been in European public affairs consulting, focused on working with the financial services sector. He has come to be regarded as one of the most influential financial services consultants in Brussels having built up extensive networks through working on key financial services files and the revisions to them. He trained and worked as a merchant banker in Hamburg.

Nickolas has an MA in History and Politics from the Christian-Albrechts University, Kiel and has also studied and lectured at the University of Limerick and Queens University, Belfast. He speaks German, English and French.

Piers Haben

Director for Banking Markets, Innovation and Consumers, European Banking Authority

Piers Haben is the European Banking Authority's Director for banking markets, innovation and consumers. He leads teams that look at the reporting and loan management, financial technology and innovation, capital markets developments, payments systems and consumers.

Until 2018, he was responsible for the EBA's risk infrastructure and stress testing work as well as supervisory convergence across the EU. Prior to joining the EBA, he worked for the Financial Services Authority in the United Kingdom, where he held a number of roles related to prudential policy and supervision, including leading the FSA's policy work on stress testing and the supervisory review of firms under the second pillar of the Basel Accords.

Piers Haben also has covered a number of positions of international relevance, in particular through his membership within the Basel Committee's Supervision and Implementation Group, his work in the Financial Stability Forum and his advisory role for the South African Reserve Bank.

Sean Berrigan

Director General, DG FISMA, European Commission

Sean Berrigan is currently the Deputy Director General in DG FISMA (Directorate-General for Financial Stability, Financial Services and Capital Markets Union) of the European Commission. DG FISMA is responsible for EU-level legislation for the financial sector; in this context, he represents the EU Commission on the Economic and Financial Committee, the Financial Services Committee and the Single Resolution Board.

Sean Berrigan has been a Commission official since the mid-1980s and has spent much of this time working on financial-sector issues – first in DG ECFIN, where he contributed to financial-sector aspects of the assistance programmes for other Member States, and now in DG FISMA. Earlier on, he also worked on monetary policy and exchange-rate analysis in the context of preparations for the introduction of the euro in 1999. In the mid-1990s, he worked for several years with the International Monetary Fund.

Shen Bing

Director-General of the Department of International Affairs, China Securities Regulatory Commission (CSRC)

Mr. SHEN Bing is Director-General of the Department of International Affairs at the China Securities Regulatory Commission (CSRC), which he joined in 1996. Mr. Shen has extensive experience in carrying out international dialogue, regulatory cooperation, and open-up policy research with respect to securities regulation. He is currently in charge of CSRC's collaboration, consultation and dialogue with multilateral organizations such as IOSCO, World Bank, IMF, OECD, ABD etc., and participation in various assessments conducted by these organizations. He represented the CSRC in the drafting of the CPMI-IOSCO Principles for Financial Market Infrastructures. In 2020, Mr. Shen was re-elected as Vice Chair of the IOSCO Asia Pacific Regional Committee (APRC), and Vice Chair of the IOSCO MMOU Monitoring Group.

Mr. Shen studied at the School of Foreign Studies of Xi'An Jiaotong University and the Department of Accounting of Renmin University of China. He also holds an MBA degree from the School of Management of Cranfield University (UK).

Steven Maijoor

Chair of the European Securities and Markets Authority (ESMA)

Steven Maijoor is the Chair of the European Securities and Markets Authority (ESMA) since taking up office 1 April 2011. He is the first chair of the authority and is currently serving his second five-year term. He is responsible for representing the Authority as well as chairing ESMA's Board of Supervisors and the Management Board. The role of the Board of Supervisors is to give strategic guidance to ESMA and make all main regulatory and supervisory decisions. The Management Board's purpose is to ensure that the Authority carries out its mission and performs its tasks.

Prior to taking up this role, Steven was Managing Director at the AFM, the Dutch financial markets regulator, where he was responsible for capital market supervision, including financial reporting and auditing, prospectuses, public offerings, and the supervision of the integrity of financial markets. During his term, the scope of activities of the AFM vastly expanded and he was responsible for building and implementing supervision in the capital market area. In his regulatory role at the AFM, Steven has held a number of international positions, including the Chairmanship of IFIAR (International Forum of Independent Audit Regulators).

Before joining the regulatory world, Steven was the Dean of the School of Business and Economics at Maastricht University and had pursued a long career in academia which included a variety of positions at Maastricht University and the University of Southern California.

He holds a PhD in Business Economics from Maastricht University, was a research student at the London School of Economics, and has a master in Business Economics from the University of Groningen.

Tokio Morita

Vice Minister for International Affairs, JFSA and Chair, IOSCO Asia Pacific Regional Committee

Mr. Tokio Morita is FSA Vice Minister for International Affairs. Mr. Morita joined the Japanese Ministry of Finance (MOF) in 1985. During his time at the MOF, he held positions in the Banking Bureau, Securities Bureau, Financial System Planning Bureau among others.

In 2007, Mr. Morita joined the Financial Services Agency (FSA). He has held the positions of Director of Securities Business Division and Banking Business Division I, Director General of Strategy Development & Management Bureau as well as Secretary General of the Securities and Exchange Surveillance Commission (SESC).

He was Chair of IOSCO Standing Committee 3 (transformed to Committee 3) from 2007 to 2009. He was also a member of the BCBS and the Resolution Steering Committee of the FSB between 2012 and 2015. He is currently Chair of the IOSCO Asia-Pacific Regional Committee and Co-Chair of the IOSCO Follow-Up Group to the Task Force on Cross Border Regulation.

Wendy Cheong

Managing Director and Asia Pacific Head, Moody's Investors Service

Wendy Cheong is currently Managing Director-Regional Head of Asia Pacific for Moody's Investors Service (MIS), based in Hong Kong. In this role, Wendy develops and leads Moody's growth strategy in both developed and emerging markets in the region. She is the senior representative for Moody's in Asia Pacific and is responsible for regional operations, overseeing policy and regulatory outreach, coordinating Moody's global initiatives, and providing oversight of affiliates, joint ventures and Moody's domestic market strategies in the region.

A senior management and strategy professional experienced in leading and transforming international business operations, Wendy acts as an Executive Director for majority of Moody's Asia entities. She also serves as a Non-Executive Director on Moody's numerous domestic affiliate boards, including Korea Investors Service, Inc., Malaysian Rating Corporation Berhad and ICRA Limited, which is a publicly-listed firm listed on the India Stock Exchange.

Wendy joined Moody's in 2010 as an Assistant Director at Content Strategy in Moody's Analytics, and has since held senior positions in strategy and management roles across business lines in Hong Kong and New York to build strategic vision, drive business growth and enhance market impact. She has served as Chief of Staff to the President of Moody's Investors Service; Representative Director for MIS in Hong Kong, while also serving as Senior Vice President – Head of APAC Strategy & Business Management; and Director and Senior Product Strategist at Moody's Analytics.

Wendy is the Global Executive Sponsor for the Moody's Women's Business Resource Group and she currently sits on the Board of the Asian Venture Philanthropy Network (AVPN), a leading non-profit network of over 600 organizations across 34 countries that mobilizes capital for impact investing. She held leadership roles in several external women in finance organizations, including ASIFMA, and founded the Asia Pacific Women's BRG in Moody's.

Before joining Moody's, Wendy held senior strategy, sales and marketing positions at Prudential PLC in Hong Kong, as well as at Singapore Telecoms in Singapore. She holds a BA in Southeast Asian Studies from the National University of Singapore.